Warenkorb anzeigen
"Dont Mess With The Erz – Pineapple Beutel" wurde deinem Warenkorb hinzugefügt.
Boys From The Wood Exclusive Kids Cap
€30,00
Feines und sehr hochwertiges, limitiertes SnapBack Cap von den FICHTN Jungs.
Graue Alcantara-haptik an der Dachunterseite, innenliegendes FICHTN X BFTW Muster, zwei farbiger 3d BFTW Stick.
Hergestellt im Erzgebirge, Deutschland.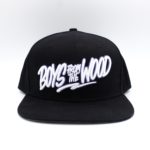 Boys From The Wood Exclusive Kids Cap
€

30,00
Vorrätig